We have arrived !
We finally arrived at Chris' parents home at lunchtime on Tuesday November 28th 2017 having left Nottinghamshire the previous day.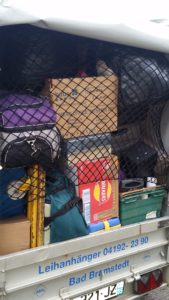 The trailer was fully loaded. There was very little room left for anything that we had not planned on taking as you can see from the picture. We then drove East to Peterborough to pick up Elaine and Connor from the passort office. Nothing like leaving things until the last minute! But at least all the passports were up to date in time for the ferry crossing. Interesting tales of how they nearly didn't get there are available!
We then headed South for Portsmouth and caught the ferry for Saint Malo. This is by far the best crossing when heading down to the West coast of France. It has great restaurants and offers a full night's sleep (if you can block out the sound of the boat creaking and the air fans). It also sails through a myriad of small islets on its way into the port, but because of the time of year, these were obscured by the lack of sunlight at 7am.
Once in France, we headed for Rennes, in Brittany, and then towards Nantes where we crossed the Loire and headed into the Vendée. The weather that greated us was bright and sunny and the temperature was in double figures. It was hard to regret leaving behind the miserable cold and damp of Nottinghamshire.
Since we arrived, we have dived headfirst into French administration, with visits to the Préfecture (Administrative centre of the area), the Caisse Primaire d'Assurance Maladie (the equivalent of the Social services office that deals with reimbursing any medical costs) and sorting out Chris' right to employment.
We also had a delicious meal at a pizzeria not far from where we'll be living as from January and had a lovely chat with the owner. We also "bumped into" a local retired guy who welcomed us to the town and gave us his contact details and an open invite to drop in for a chat whenever we wanted.
Another thing that needed doing fairly soon after arriving in the country was to visit the flat where we will be living after New Year. Connor hadn't seen it yet! So we took a short drive to there on Wednesday. The setting is fantastic! Out in the middle of the French countryside, but within easy reach of local shops and only a 20 minute drive from the nearest city.
More news to follow soon!